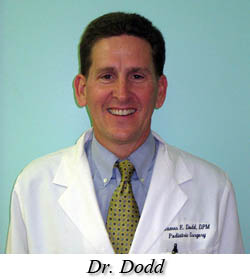 Dr. Dodd graduated from the Temple School of Podiatric Medicine in 1988. He then completed his residency in foot and ankle surgery at The Graduate Hospital in Philadelphia, PA. He joined Dr. Peter Holtz in practice in Winchester, VA in 1990 and was the first podiatrist to have surgical privileges and perform surgery at Winchester Medical Center. He has been very involved during his twenty plus years in Winchester having served as president of the Surgi-Center of Winchester, Chairman of the Board at the Surgi-Center and a member of the Winchester Medical Center Executive Committee. He is also the former director of the Center for Advanced Wound Care and Hyperbaric Medicine at Winchester Medical Center. His surgical focus has been in the areas of reconstructive foot surgery, wound care, and diabetic foot salvage.
Dr. Dodd was born and raised in Burtonsville, Maryland. He attended Bucknell University and earned his degree in biology in 1983. He has resided in Winchester with his wife Beth and their two children for the last nineteen years. He has been involved with the American Diabetes Association, Big Brothers Big Sisters and coached baseball, football, basketball and soccer in Winchester youth leagues. He enjoys fly fishing and spending time outdoors. He is also an avid runner and painter.
Dr. Kushlak is a graduate of the Scholl College of Podiatric Medicine, in North Chicago, Illinois. After receiving his DPM degree, he went on to complete a three year Podiatric Medicine and Surgery residency, at Botsford Hospital in Farmington Hills, Michigan. While in training, Dr. Kushlak developed clinical interests specifically in the treatment of diabetic wounds and limb salvage. He is certified in Foot Surgery by the American Board of Foot & Ankle Surgery.
Dr. Kushlak was born in the western suburbs of Detroit, Michigan and before beginning his formal podiatric training, Dr. Kushlak attended the University of Michigan, earning his bachelor's degree in English.